BSN vs ADN: Which Degree Should I Earn To Become An RN?
Each blog post is dated and contains accurate information as of that date. Certain information may have changed since the blog post publication date. If you would like to confirm the current accuracy of blog information, please visit our ABSN overview page or contact admissions at (866) 892-6463.
If you are deciding between an ADN or BSN degree it is important to consider how this decision will impact your career. With a BSN, you will earn more and be able to take on leadership roles. Through Marian's ABSN program, you may even be able to graduate sooner.
The two most popular degree tracks students take to become a registered nurse are the Associate Degree in Nursing (ADN) and the Bachelor of Science in Nursing (BSN). Our accelerated nursing program results in a BSN in 16 months of intensive study.
Nurses earning associate and bachelor's degrees receive their education and training in the classroom as well as in clinical rotations. Regardless of degree type, all registered nurses must first pass the NCLEX-RN examination in order to receive certification.
However, while there certainly are similarities between the two, there are also many differences to be found when comparing BSN vs ADN degrees. This can be a tough decision to make, which is why we've compiled information to help you compare these options and figure out which type of nursing degree is right for you.
Earning an ADN
Many typical ADN programs are completed at a community college and are two years in length. Over the course of the program, students go over the basics of patient care and nursing skills and will participate in clinical rotations to gain hands-on experience. When compared with a four-year BSN program, some ADN programs may prove to be more affordable, and graduates are eligible to sit for the NCLEX to become RNs.
According to PayScale, associate degree nurses earn an average salary of $73,000 per year. While this salary is certainly nothing to scoff at, it's important to note that nurses educated at the associate degree level are generally less likely to be promoted and have fewer career options when compared to a nurse holding a bachelor's degree. Most graduate nursing programs will also not accept students holding only an ADN.
Overall, this degree provides little opportunity for advancement and graduates of these programs will likely be dealing with simpler cases and have less responsibility than peers with more advanced education.
Earning a BSN
As opposed to ADN programs, BSN programs tend to offer more in-depth coursework and training as it is a more advanced degree. However, just because it is a more advanced degree doesn't mean it has to take longer than obtaining an AND. While a traditional four-year BSN program is, of course, an option, there are several routes for students looking to earn a Bachelor of Science in Nursing.
For example, another option for pursuing a BSN is to complete an accelerated program like Marian University's ABSN program. Accelerated programs are typically 12 to 24 months in length. As we mentioned, ours results in a bachelor's degree in 16 months of professional study. Our curriculum is comprised of flexible online coursework, nursing skills and simulation labs, and clinical rotations. Most accelerated nursing programs require a first non-nursing bachelor's degree and provide the same preparation and education as traditional BSN programs in a condensed time frame.
While four-year programs may carry a heavier financial burden than many ADN programs, accelerated BSN programs can prove to be a viable option when considering tuition and fees. Not to mention, holding a BSN provides a higher return on investment when considering salaries. According to PayScale, nurses holding bachelor's degrees earn an average yearly salary of $89,000, which is $16,000 more than the average for ADN-educated nurses. BSN-prepared nurses are also more likely to be promoted and are given more responsibility on the job.
A BSN degree is also a prerequisite for most graduate programs in nursing, whether a Master of Science in Nursing or a Doctor of Nursing Practice degree. Advanced degrees open the door for more specialized practice, more career opportunities, and higher earning potential.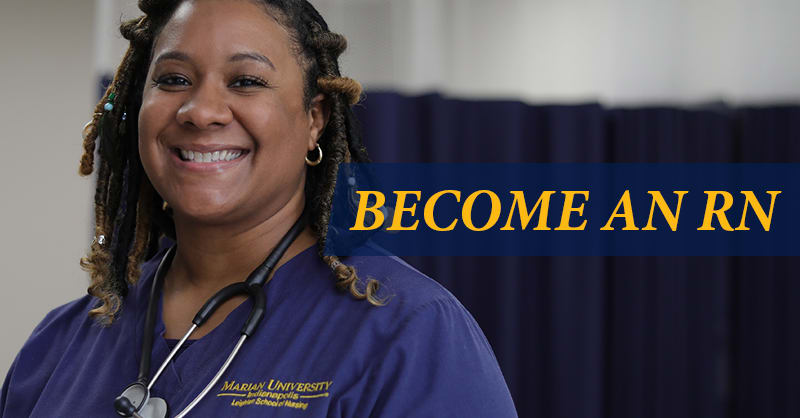 The Future of Nursing
When deciding which degree path to follow, it's important to look into the future of the nursing profession. As of late, the role of nurses in healthcare is shifting. Many organizations are realizing the importance of nurses and are including them in more leadership positions within the healthcare team. And with an aging baby boomer population, more and more Americans will need increasingly complex care. This will require nurses who are highly trained and skilled to provide quality care for these patients.
While you need to choose the degree path that is most appropriate for your current situation, with this in mind we encourage you to strongly consider pursuing a BSN. A bachelor's degree opens up many doors in the nursing profession and is quickly becoming the preferred qualification by employers as positive patient outcomes tend to increase when more nursing staff is BSN-educated. In fact, this is one of the qualifications for a hospital to achieve magnet-status.
Not only are magnet hospitals known for their exceptional patient care, but they are also great places to work. Many of these organizations are credited as having supportive environments and a dedication to encouraging the continued growth of their nursing staff.
Is an ADN or BSN Right for You?
Now that you have more information, you can figure out which program is right for you. It is true that ADN programs can get you ready to take the NCLEX and become an RN sooner than if you pursue a traditional BSN program. However, if you already have a non-nursing bachelor's degree the ABSN program at Marian might be the best option, as you can graduate in as little as 16 months. This means spending a shorter amount of time in school and earning a more advanced degree as opposed to an ADN program. Earning a BSN degree will also allow you to increase your earning potential, and may even lead to a more rewarding career.
Ready to Get Started?
If you're ready to take the next step towards a career in nursing, contact us to speak to an admissions advisor to help you determine whether a BSN vs ADN is your best path to a nursing career.