Come Discover Nursing with Marian This February
Each blog post is dated and contains accurate information as of that date. Certain information may have changed since the blog post publication date. If you would like to confirm the current accuracy of blog information, please visit our ABSN overview page or contact admissions at (866) 892-6463.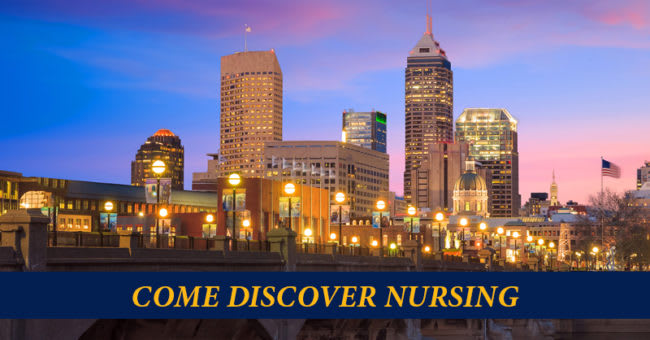 If you're based in or around Indianapolis, hold a non-nursing bachelor's degree and are interested in nursing as a calling and career path, join Marian University for our Come Discover Nursing Open House event! Take advantage of this opportunity to learn more about if an accelerated nursing education is right for you — explore our Indianapolis-based Accelerated Bachelor of Science in Nursing (ABSN) program site, speak to students and instructors, sit in on a simulation lab demonstration, and get the information needed to see whether pursuing nursing is the best choice for you.
Our ABSN program has given us the opportunity to educate so many talented nurses who exemplify care, compassion and leadership, and we would like to learn more about you and your ambitions. Read on to learn more about our Come Discover Nursing Open House and decide if you want to earn your nursing degree in as few as 16 months.
Event Date
Saturday, February 26, 2022
Event Time
10:30 a.m. – 12:30 p.m. (Doors open at 10:15 a.m.)
Event Location
Marian University's ABSN Program Site, 9002 Purdue Road, Suite 400, Indianapolis, IN 46268
Event Itinerary
During this two-hour event, you and other prospective nursing students will explore our ABSN program site location and discover more about the day-to-day experiences of an accelerated nursing student at Marian University.
Check-in: 10:15 a.m. – 10:30 a.m.
During this time, you will register and prepare for the event. You will have the opportunity to take an initial look at our Indianapolis program site location while chatting with students, instructors and fellow prospective students. Don't be afraid to network; you could find future friends and cohort members.
Welcome and Student Panel: 10:30 a.m. – 11:45 a.m.
Hear from real Marian ABSN students on their experiences with the program in general, as well as their learning experience with the facilities offered at our Indianapolis site. Students will have a wide-ranging discussion that also touches on how Marian prepares them to be leaders within a rapidly changing healthcare landscape and how to succeed as an accelerated nursing student.
Site Tour and Simulation Lab Demo: 11:45 a.m. – 12:30 p.m.
See our Indianapolis program location, equipped with all the key resources necessary to provide a high-quality accelerated nursing education. See the hospital-grade medical equipment our students work with, and walk through steps from multiple simulation lab exercises under expert instructor supervision. With this demo, you'll have an idea of some of the nursing skills and techniques you learn onsite as an ABSN student.
Registration
Visit our event registration page to RSVP and secure your spot today. We hope to be able to explore nursing with you!
Questions?
If you have any further questions about our Come Discover Nursing Open House event and would like to learn more, please contact Deb Downard at 405.666.0655 or [email protected].