How to Prepare for Nursing School: 9 Things to Do Before You Start
Each blog post is dated and contains accurate information as of that date. Certain information may have changed since the blog post publication date. If you would like to confirm the current accuracy of blog information, please visit our ABSN overview page or contact admissions at (866) 892-6463.
When wondering how to prepare for nursing school, you can take steps including reaching out to an admissions advisor, completing prerequisites, establishing your support system, attending registration events, and preparing your study materials for your time in a traditional or accelerated nursing program.
If you're considering changing your career path to nursing, you probably have questions about how to prepare for nursing school. From big-picture life planning to completing prerequisites to gathering all of the necessary paperwork and supplies, it can easily start to snowball into what feels like an overwhelming task.
Luckily you don't have to take on the process alone. That's why the team of Marian University online-based Accelerated Bachelor of Science in Nursing (ABSN) program admissions advisors exists: to help remove the stress from preparing for nursing school and help you focus on your goal of becoming a nurse.
As Marian University online-based ABSN program admissions advisor Marc Bradley says, "Our desire to partner and connect with students is unique to us as a university. It's what our advisors are here for — you'll have one person you can always reach out to."
To help give you an idea of what all you'll have to do in order to prepare for nursing school, these nine steps can help ensure that once classes begin, you will be ready to successfully take on an ABSN program.
1. Contact an Admissions Advisor
The first thing we always recommend prospective nursing students do is schedule a phone call with an admissions advisor. Don't think of this appointment as a formal interview; rather, consider it a chance for you to learn more about the Marian University ABSN program. You'll learn about the time commitment involved and gain a full scope of the application process. Still, for this conversation, it's helpful (but not required) to work in advance in order to prepare.
You will need all of your previous academic transcripts (Note: To qualify for the Marian University ABSN program, you must hold a non-nursing bachelor's degree from an accredited institution, a minimum overall cumulative 2.8 GPA or a 3.0 GPA for the last 60 credit hours completed, and completion of all prerequisite courses.)
Think about the answers to the following questions:

What do you want to do with your degree after you graduate?
In what type of nursing environment do you want to work?
What role do you want to play in your future workplace?

Update your FAFSA forms (if you are interested in receiving student loans).
2. Complete All Prerequisites
In addition to working through your academic qualifications, an admissions advisor can also help you strategize how to complete any outstanding prerequisites you may need to pass before applying to nursing school.
Any general education prerequisites you passed with a C or better in the past seven years can count toward this requirement, but if you still have some left to go, don't worry. Your admissions advisor can determine if you qualify to enroll in Marian's Adult Programs (MAP) to finish them online in as few as five weeks: each through the same learning platform you'll later use as an accelerated nursing student.
3. Establish Your Support System
Once you begin the 16-month accelerated curriculum for the Marian ABSN program, it can be difficult to keep up with other big commitments. Because of the time-intensive nature of the program, you should work out in advance whether you will have the time and support system in place to succeed as a student.
For instance, if enrolling in the Marian University ABSN program requires you to relocate, you should start thinking about where within your new city you want to live as early in the nursing school enrollment process as possible. Your admissions advisor can help you determine a budget and your priorities. Other potential factors like work or childcare are also important to sort out as you prepare for nursing school.
4. Attend On-Site Application Session
The next step involves meeting with your admissions advisor in person at one of our online-based ABSN program learning sites for an application session. During this session, your advisor will walk you through how to complete your nursing school application.
Even if enrolling in nursing school requires you to move, these in-person sessions help you stay on track to reach your target start date. "The application sessions are a good opportunity for you to get a lay of the land. It's where you really begin to see yourself in the nursing school setting," Bradley says.
At your application session with your advisor, you'll discuss all the tasks, forms, and paperwork you'll need to complete before submitting your nursing school application, due 45 to 60 days before your desired start date.
5. Attend Registration Day
By this point in the process, you're approaching the beginning of nursing school. But before orientation, you'll have to attend Registration Day, an event that takes place at one of the online-based ABSN program learning sites a few weeks before your first day of nursing school. This event gives you a chance to meet members of your nursing school cohort, ABSN faculty members, and support staff.
At this event, you'll also:
learn about upcoming important dates;
learn more about Marian University;
register for classes; and
try on and order uniforms, supplies, and textbooks.
6. Network with Your Cohort
Before you begin your nursing journey, it's important to get to know who's going to be joining you during the program. After all, many consider nursing school to be a full-time job, so you'll be spending a significant amount of time with these people. That's why it's so helpful to make introductions and connections with the other members of your cohort and your nursing instructors before nursing school begins.
Marian University's online-based ABSN program understands the importance of having a strong support system and building networking opportunities into your pre-ABSN program experience. Beyond meeting your fellow cohort members in person, gather their contact information and be proactive about forming study groups. Working together, you will be much better equipped to succeed as a nursing student.
7. Prepare Your Nursing Study Tools
In preparing for nursing school, assembling all the supplies and equipment you will need can help support your efforts once the first semester gets underway.
How do you learn best? Marian's ABSN program features online-based learning with an array of lesson plans designed to administer content across various learning styles. However, you'll also be participating in hands-on skills and simulation labs and clinical rotations at leading area healthcare facilities.
You will absolutely need a personal computer to take on online-based coursework, but study tools like physical notebooks can provide a tactile experience that may help you absorb and study content more effectively. Prior to the start of classes, make sure you have access to the supplies and resources you will need in order to study.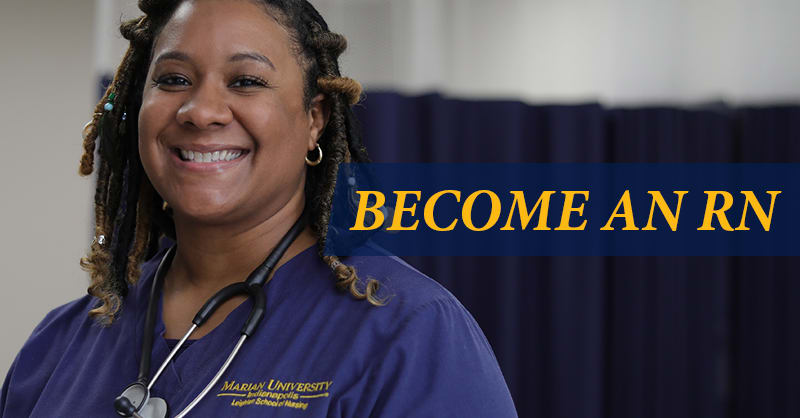 8. Get Organized
From keeping up with online nursing theory coursework to knowing when and where to attend simulation labs and clinicals, staying on top of all of accelerated nursing school's moving parts is the key to success.
To maintain your sanity and increase your odds of transitioning smoothly, you'd be wise to do the following before courses begin:
Once you have them, import your lab and clinical schedules into your calendar.
Plan out a study schedule, and choose a designated study spot.
Make a weekly meal plan.
Coordinate childcare arrangements, if needed.
If you have a routine in place once classes begin, you'll be much better prepared for nursing school from the start. With organization, it's much easier to stay up to date with the many hurdles that you can encounter as an ABSN student.
9. Establish a Self-Care Routine
Establishing a self-care routine can help you work through the stress you encounter during school in a productive way. There will be challenging moments while earning a nursing degree in as few as 16 months, but having the tools in place to handle those moments and return to your studies will keep your nursing school experience feeling much more achievable.
Whether you find relaxation in yoga, reading, running, or cooking, know what can help you stay on track and offer an outlet to handle the stresses you may encounter. Ultimately, taking time to practice self-care instead of simply pushing through stress can help you avoid burnout and take a healthy approach to the nursing profession in the long run.
Take the First Step to Prepare for Nursing School
Applying to and preparing for nursing school requires some legwork, but you won't be going through the process alone. The common denominator with questions about how to prepare for nursing school is your admissions advisor, who always welcomes the opportunity to answer questions and help you succeed.
If you're interested in accelerating your path to nursing school, start with the first step — contacting an admissions advisor — to see if the Marian University ABSN program is a good fit for you.